The history of toy robots is very interesting. The Marshall Plan (named after Secretary of State George Marshall) was designed to help rebuild European and Japanese industries after WWII. The thought was to give assistance to Japan by building industries that would not be a threat to its American counterparts. It was suggestive that low profit, high labor, small item manufacturing industries would fit the requirements. U.S. companies had found that these products incurred high costs and lowered profit margins. They reasoned that by having the manufacturing done in countries with lower wages, they could import the product most cheaply and sell at a higher profit than if they had done the manufacturing in the U.S. American toy imports such as Marx, Rosco, Cragstan and Mego sold toys that had been made by Nomura, Madudaya, Daiya, Yoshiya, Yonezava and Horikawa.
The original toy offerings from Japan were clockwork or friction powered, stamped steel and similar to the popular German and American toys before WWII. The Japanese perfected many of their toy designs and added improved features such as unique actions, tin lithography and battery power.
The first toy robot is considered to be Robot Lilliput from Japan. It is a boxy, yellow clockwork. The exact year of its creation is unsure; the date ranges from the late 1930s to the mid 1940s. The next Japanese robot Atomic Robot Man and was made in the late 1940s. The box for Atomic Robot Man was certainly a reflection of current events when it was made. It depicted a robot marching through a city that had been annihilated with an atomic mushroom cloud overhead.
American toy companies also made toy robots. The Sears Christmas Book of 1954 had a crank operated robot called Robert the Robot. Other robots from American companies that were subsequently introduced during this period include The Robot Dog, Marvelous Mike, Z-Man, Big Max and Marx Electric robot.
The Japanese continued to battle the American toy makers and came up with new innovations. Batteries had been used in toys for lights or noise. The Japanese began to use battery operated motors to power robots. A famous movie in 1956 was Forbidden Planet that featured Robby the Robot. While no "Robby" toys were licensed, they were many similarities in robots named Planet Robot and Mechanized Robot.
Toy robots are difficult to give credit to the manufacturing toy maker or country from which it is made. That is because many manufactured items in Japan are subcontracted out, bought from an unknown supplier and even made from recycled materials.
One of the most productive makers of Japanese battery operated toys was the Horikawa company who used the trade logo SH. Horikawa sold hundreds of different robots from the 1950s through the 1980s. The confusion is that most do not know that Horikawa was a wholesaler and that the robots were actually made by the Metal House company of Tokyo.
Toys robots are not considered collector items. A toy robot that cost $3.95 forty years ago can now sell for up to $50,000 today at auction.
Tonka Toys began under the name Mound Metalcraft Incorporated in an old school house in Mound, Minnesota. It was founded in 1946 by partners Lynn Everett Baker, Avery F. Crounse and Alvin F. Tesch. The first product offerings were two models of tie-racks; the original product line was to focus on the manufacture of lawn and garden tools such as rakes, shovels, hoes, etc.
A change of product focus occurred a year later in 1947. Mound Metalcraft was approached by another local manufacturer, Streater Industries, Inc., to manufacturer steel toys visualized by Edward Streater. The companies knew of each other because Streater had been former occupants of the building where Mound Metalcraft had subsequently moved into. Streater Industries had tried unsuccessfully to market two metal toys. Alvin Tesch modified their design. A new logo was created by Erling Eklof using the Dakota-Sioux "Tonka" which means big or great. The collaboration resulted in Tonka's first models produced which were the model #100 Steam Shovel and model #150 Crane and Clam. Although the Tonka Toys name appeared on these original offerings, Mound Metalcraft did not legally change its name to Tonka Toys until November 1955. The focus on garden implements was reconsidered. Tonka Toys became a manufacturer of metal toys.
With the success of the Steam Shovel as well as the Crane and Clam, Tonka Toys became innovative in its model designs and its color combinations. The first two models were produced using an array of various color schemes. Different models are pressed steel toys were also introduced at this time. For example, dump truck, wreckers, semis and box vans were added to the product line. Tonka expanded their product line in order to compete with Nylint, Structo, Wyandotte and others. The solid steel construction of Tonka Toys made it a popular toy that was tough enough to be passed down from one generation to another. They were considered indestructible. In 1955 Tonka Toys moved into a new manufacturing facility due to high demand of the Tonka trucks. Shortly thereafter a 50,000 square foot addition was added to the new facility. Tonka Toys was in a growth pattern. In 1955 Tonka Toys changed its logo to an oval with the name Tonka Toys in red above waves. It is thought that this is to honor the nearby Lake Minnetonka.
Tonka moved into another phase when it was purchased in 1991 by Hasbro of Pawtucket, Rhode Island. The original solid steel construction of Tonka Toys has given way to the use of more plastic in the toys. This was due in part to a move to manufacturing to China in 1998.
Tonka trucks were inducted into the National Toy Hall of Fame in 2001. This momentous induction is a recognition that Tonka trucks have achieved longevity and have played a role nationally in the world of imagination and play. It is a toy that is considered a classic. Tonka trucks remain a favorite toy of kids of all ages.
The love of model trains transcends age and gender. It could be because of the memories associated to the popular Lionel train set under the Christmas tree that model trains are so beloved.
The first model trains were curiously not geared toward children. They were used as promotional and sale models to promote the railways. It was instrumental in public relations to persuade those who have never ridden a train to do so.
The first complete clockwork train sets were made in the 1890s by a company called Marklin. The price of the set was rather expensive, though, and only the wealthy could afford them. Marklin had a complete product line that included beginner train sets, accessories, parts, different kinds of locomotives and tracks. The model train captured the attention and imagination of children who have always loved different modes of transportation such as trucks, airplanes and trains.
A period of growth followed. Other companies joined the model train industry. It was also discovered that a sophisticated version, the model railways, would appeal to adults. Many of the model railways manufacturers were located in Germany. It was during WWI when imports to the U.S. had been halted, that American companies were founded. In 1900, Ives, an American toy maker, decided to join the competition with clockwork tinplate trains in gauges 0 and 1. Lionel, another US manufacturer, not only utilized the European style tinplate tracks, but offered electric trains. Another advantage to the additional competition was the price of model train became more reasonable as U.S. manufacturers produced sets that were simplified. American Flyer also was a competitor in the American market. Anti German feelings during WWI led to the success of many American model train producers.
Innovations kept pace with consumer wants. An escalating trend was the infusion of increasing smaller scales. OO and HO gauge grew out of collaboration for table top toy. While the Bing Table Top system was not considered successful, it did spur an increased interest by adult modelers who favored this size. It was during this time that two scales were introduced in Britain, the HO 1/87 scale and OO 1/76 scale. Another trend was the increasing popularity of model railways as a hobby. Publications focused entirely on model railways were introduced and the hobby became quite popular in the United States and in the United Kingdom. The toy makers noted that parents usually were the ones to buy the train sets for their children. The way to expand their demographics was to produce a train set that the father would enjoy. Toy trains were adapted to adult tastes by incorporating more realistic detailing.
Another world war improved the standings of U.S model train manufacturers. Out of the leading toy train producers, only the U.S. companies avoided the devastation and physical damage from the war.
Model trains were a major toy during the 1950s. In a strange turn of events, as the real railways began to suffer a major loss in ridership due to cars and planes, the demand for toy trains decreased dramatically also. Some companies consolidated and other established brands disappeared.
There have been upturns and downturns in the model train industry. There still exists a large market for the toy trains whether it is a child or an adult enthusiast.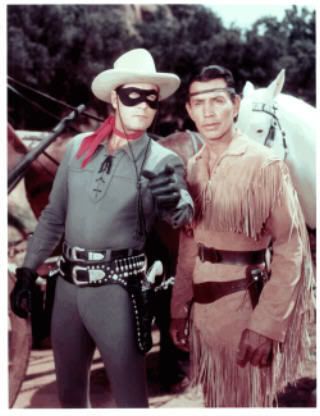 The Lone Ranger began as a radio show and continued as an early television show. The title character was a man named Texas Ranger Reid who had survived an ambush. Tonto, a Potwatomi Native American, nursed him back to health. His reason was that Reid had rescued him after an attack by renegade Indians and Tonto gave him a ring which is how he recognized him. The Lone Ranger, renowned for his mask, and Tonto fought for law and order in the early western United States.
The Lone Ranger radio show offered premiums or gifts to children. Some examples of these included the Lone Ranger Six-Shooter Ring and the Lone Ranger Deputy Badge. A common motif used in the premium was the silver bullet.
Traditional Lone Ranger toys included figurines, cap guns, and mask. Gabriel Toys released a profitable line of 10-inch action figures and accessories in 1973. Of course, the Lone Ranger riding Silver was very popular as well as Tonto riding Scout. The nickel plates cap guns cocks to shoot one cap at a time and one side is stamped president. The other side is marked with the letter K and a single star. Another popular Lone Ranger toy is the Lone Ranger mask. It is black and ties in the back.
Lone Ranger toys remain popular as new generations watch "The Lone Ranger" television shows on reruns and older collectors think back to the days when the Lone Ranger was the hottest show on TV.
The Barbie doll is an icon in the toy industry and has been for many years. Many generations of little girls have played with and imagined with Barbie.
The Barbie doll was created by American businesswoman Ruth Handler. Her inspiration was her daughter, Barbara. She was playing with a typical doll, one that resembled a baby, but she was pretending the doll was an adult. Ruth realized that there was a need for a doll that represented adulthood. Ruth suggested the idea to her husband Elliot, a co-founder of the Mattel toy company who did not share her enthusiasm. During a trip to Europe with her two children, Barbie and Ken, she came across a German doll named Bild Lilli. It was the adult doll that she had envisioned. Lilli was an ambitious working girl with a fabulous wardrobe.
Ruth returned to the United States with steely determination. With the assistance from engineer Jack Ryan, Handler revised the design of the doll and was named Barbie after her daughter. Barbie was introduced at the American International Toy Fair in New York on March 9, 1959. Mattel obtained the right to the Bild Lilli doll in 1964 and production of Lilli ceased.
Barbie's appearance was very modern. The first Barbie doll wore her hair in a signature topknot ponytail and a black and white zebra striped swimsuit. The doll was produced in two versions, a blonde and a brunette.
The Barbie doll continues to be a favorite toy of little girls around the world.